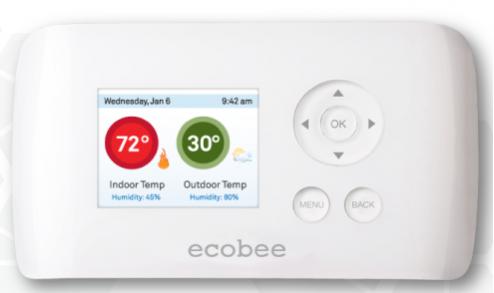 ecobee
has recently announced a brand new model of the incredibly feature-rich ecobee Smart Thermostat called the ecobee Si at the AHR Expo in Chicago. Since it has been announced I find myself being constantly asked what features this new product would offer and how would it compare to the ecobee Smart Thermostat that is being sold today. First and foremost, I do not work for ecobee and I do not speak for them. I just happen to work for a company (
Eden Energy Equipment
) that has been selling them for some time and have direct contact with ecobee on their existing products and products in development.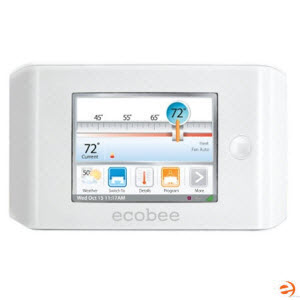 The current ecobee is a full-colour touchscreen thermostat which is incredibly pleasing to the eye, but also includes powerful features. It offers many of the options we have grown accustomed to with a high-end thermostat: it works on multi-stage equipment, has built-in 7-day programming, and enhanced smart recovery for increased efficiency. Beyond that, it also offers a free online reporting portal accessible anywhere in the world from your computer or smart phone. It allows technicians and homeowners to remotely monitor and troubleshoot equipment, as well as receive email alerts on low temperature, high temperature, humidity, maintenance and custom events like floods, equipment failure and more. This free online portal is what makes this thermostat well worth the price of admission. Combined with free iPhone and Android apps, consumers have full access and control of the thermostat literally anywhere.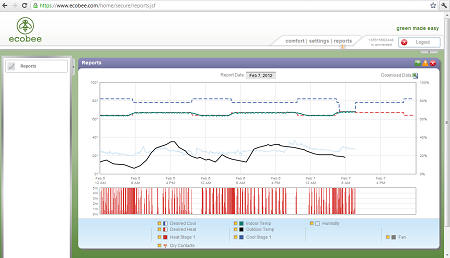 Even more impressive is how the ecobee heats and cools your home taking into account the set temperature of your thermostat, and the indoor and outdoor temperature of your home to heat the building. It uses a combination of a standard built-in algorithm, but also takes into account the size of your home, number of occupants, type of system, weather and historical run time data to drive efficiency. Are you starting to see why I call it a "smart thermostat"? Collecting continuous data to generate online reports for diagnostics is one thing, but using it to heat your home or building efficiently is smart.
The new ecobee Si, which will be available April 2012, is basically the baby brother of the existing ecobee Smart Thermostat. It will come in two models - a residential home edition and a commercial version. It has the same online portal feature, weather data and built-in outdoor temperature. The three key differences of the ecobee Si and the Smart Thermostat are that the Si is designed for 2-stage equipment only, it has an attractive colour display but is not touchscreen and it does not have the building automation of the current ecobee. The commercial model will be different from the residential ecobee SI in that it will have two dry contact connections for limited accessory inputs.
Because the ecobee Si is the little brother to the standard ecobee, its market is quite different. This is the ecobee for the mass markets, for those who want to take advantage of an ecobee on a standard heating system and do not plan to do any complicated energy management or equipment staging. The price point will be significantly less than the ecobee we all now use, enabling it to go after the mainstream conventional heating marketplace.
The ecobee and ecobee Si might look pretty, but frankly who cares? There are a lot of "pretty" thermostats on the market. What makes the ecobee truly unique is its online reporting and remote access combined with its ease of use and most importantly, smart recovery.
If there is one thing we are always willing to pay more for, it's a product that will cut down on our monthly bills. A research study conducted by the ecobee Energy Modeling Team found that ecobee customers save an average of 26% on their annual energy costs because of the "smarts" included into their equipment. So, if you consider that the average home heating bill in my region for a year is $2,200, installing an ecobee Si can potentially save you $572 a year.
So to summarize, the ecobee Si coming in April is an entry-level residential or commercial smart thermostat with a truly smart algorithm that will save money for people not looking to do much more than run their conventional heating system.
The ecobee we now all use and respect can be expanded to do full energy management and offers Zigbee communication with smart plugs and more. The ecobee Si does not. The ecobee Si is truly just a smart thermostat for conventional heating systems whereas the ecobee can be expanded to a full-blown automation system.
About The Author
: Michael is the Support Services Manager at
Eden Energy Equipment
a supplier of high-end residential HVAC products for 31 years including Bosch, WaterFurnace, ecobee & more. Michael is responsible for Sales Support & Technical Services at Eden Energy Equipment. If a HVAC contractor or technician needs assistance it is his responsibility to oversee the response and support.