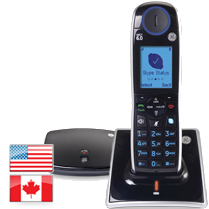 We needed a home phone solution. Like many others, a few years ago we had said goodbye to our landline and all the fees associated with it, using only our cell phones. This worked well for us, however our daughter has entered the pre-teen years and that means lots of phone time. We weren't really sold on a cell phone for her as it could cause undue distractions from school, and realistically that age we didn't find to be responsible enough for one. But the flip side to that being our phones were now getting called and tied up nearly non-stop at night. We'd used
Vonage
in the past with great success, but at $25.99 a month, the price wasn't as good as we hoped. We also use
Skype
for video chatting between the kids and their grandparents and noticed Skype had VoIP phones, so we thought we would give them a shot instead, reasoning it may be more economical than Vonage. What we found out after 3 months, was that although adequate, Skype VoIP was neither less expensive nor less problematic.
At a glance
Pros
Bundled solution
Looks inexpensive on the surface
DECT6.0 translates to good call quality and clarity
Cons
Paid for 12 months of Skype, but only received 3 months
Customer support is sub-par and nearly non-existent
Although sold through Skype's site, the phone and Skype subscription are serviced by a fairly unresponsive 3rd-party vendor, and Skype will simply refer you to them. When they don't fix your problem, you're out of luck.
Phone number needs to be purchased in addition to this
Account password and sometimes entire account info are lost after software updates
Date/time were not set automatically after software updates at first, latest updates seem to change that
In our inexpensive VoIP experiment, we settled on
Skype's GE31591GE1 phone w/ built-in Skype service
. Skype's GE31591GE1 phone adopts the DECT6.0 standard, so it won't interfere with your wireless networks and pick up interference from things like baby monitors and microwaves. DECT6.0 (Digital Enhanced Cordless Telecommunications), while sounding new and hip, actually operates on the 1.9GHz frequency and was reportedly given the DECT6.0 name by Siemens after they suspected consumers would not want to purchase a 1.9GHz phone when 2.4GHz and 5.8GHz phones were out there. They were probably right in assuming that many consumers just expect that bigger is always better. It's claimed that the range of DECT 6.0 cordless phones is approximately 2 to 3 times that of 5.8GHz phones and 20-25% better than 2.4 GHz phones, along with many other great features. Sounds good so far!
Skype's website
promised the exact features we needed, namely 12 months of US calling, so we were sold:
Chat on Skype as you wander around your home using the 31591GE1 digital cordless phone. Make free Skype-to-Skype calls, or call landlines and mobiles using a free 12-mo Skype Unlimited* (US/CA) Subscription and up to 200** free int'l minutes of Skype Credit.
One thing you might take note of here, notice that it does not say
receive calls
from landlines or mobiles, and you won't find anything about that in the phone's description, except that it's a feature the phone supports. In reality it was probably left out because purchasing a 12 month lease on a phone number from Skype so that the phone can receive incoming calls (unless you also have it connected to a landline) is another $30 that you'll need to purchase once you get the phone.
How it worked
Once we purchased the phone number for an additional charge, and loaded the vouchers from
ebuynow
(more on this later) in to our Skype account, it was time to put it in to action. We had a little trouble with the learning curve on how to call, a 1 was required before all numbers and (without a landline attached) you can't simply hit the Talk button. Once you dial 1 plus the number, then you hit Options, and SkypeOut call. Not a big deal once you figure it out, and probably less of a big deal if you RTFM.
Call quality and clarity were nearly perfect, even with other internet usage going on and no QOS enabled. In the 3 months we've had it we've never had a dropped call or so much as static. I should note that your mileage may vary on this one, we have 25Mbps down/5Mbps up for our internet connection and a lot of care and attention has been given to ensure it's working in tip-top shape. The phone automatically pulls Contacts from your Skype account, so anything within that account is available on this phone. From the pure perspective of making and receiving calls this phone works astoundingly well and I would recommend it in a heartbeat if that was the only consideration.
Annoyances
However, and this is a big however, if you ever need support from Skype or ebuynow don't expect a whole lot, which is usually a caveat of going cheap. Skype's support is fairly convoluted to get to and it's a "one and done" scenario, meaning they answer and if it's not a good enough answer you open a new ticket and explain yourself again. ebuynow does have a ticketing system where you can add follow-up responses, but sometimes they just quit answering. When we received our phone, the voucher only came with 3 months of service vs the 12 months advertised on Skype's site. In 3 months I've gotten nowhere in getting this corrected. Support requests to Skype have said, "we sell it, but ebuynow is the vendor, contact them". ebuynow has generally responded saying our 3 month voucher was received and they quit answering. In essence we paid for 12 months of service, but only received 3 months. When we look at this as an experiment to go more economical than Vonage it may not add up, I'll run through the costs below.
Minor annoyances simply have to do with Skype's software updates, which come about every 2 weeks. On the first few sets of software updates all recorded account information would be erased from the phone, making you re-enter it. Not a big deal unless your kids are the primary consumers of the phone, which ours were. This seems to have been remedied a bit as the last few software updates keep the username, but require password to be re-entered. Date and time were also not automatically set from the internet, which doesn't sound like a big deal, but it's more of just a "nice to have", why couldn't it be set automatically? The latest software updates have seemed to remedy that as well.
The real costs vs what it should of cost and why Vonage may be better
I mentioned we paid for 12 months of service, but only received 3 months. Remember that the Skype experiment was a challenge to see if cheap VoIP was worth it and to see if we could beat Vonage on cost. The first table I'm going to show you here is what we paid for, and how Skype should have rocked Vonage when it came to price.
| | | |
| --- | --- | --- |
| | Vonage | Skype |
| Cost of phone w/ service | | $89.99 |
| First 3 months | $29.97 | $0 |
| Last 9 months | $224.91 | $0 |
| Phone number for 12 months | | $30 |
| | | |
| Total cost for first year | $254.88 | $119.99 |
With these figures Skype would blow Vonage away, and it only gets cheaper the next year since equipment costs are now complete. In the new year Skype would have cost $2.99 a month plus $30 for the phone number, which equates to just north of $60 a year. Even with equipment costs, Skype
should
have been cheaper in the first year. This however, was not reality. The next table I'm going to show you is the service we actually received from Skype/ebuynow.
| | | |
| --- | --- | --- |
| | Vonage | Skype |
| Cost of phone w/ service | | $89.99 |
| First 3 months | $29.97 | $0 |
| Phone number for 12 months | | $30 |
| | | |
| Total cost for 3 months of service | $29.97 | $119.99 |
As you can see, for the 3 months of service we received we would clearly have been better off going with Vonage. One could argue that we could just buck up and pay $2.99 a month for the remainder of the year and still come out ahead of Vonage. They would be right, I just don't like giving money to companies who don't take care of their customers. If a customer doesn't get what they pay for initially, I have a hard time recommending they give any more money to the offending company, even if it means paying significantly more to another company for better service. The bottom line is that Skype service is cheap and the call quality is superb. It may work out very well if you actually receive what you pay for and never expect a meaningful support response.
UPDATE: On January 20, 2012 ebuynow finally provided the 12-month voucher after 3 months of trying to contact support.