If you have any questions about specific setup of the Vortexbox after reading this article, please post over on the
forums
and I'll answer straight away.
What if you could take every DVD you own, or watch with Netflix, and move it to digital format (MKV and MP4) for easy viewing at the push of a remote button anytime you please? What if you could also take every CD you own and rip it to both FLAC and MP3 format and have them available for listening via DLNA, iTunes, Sonos, Squeezeserver, and Windows share? What if I told you that the only thing you had to do was open the drive door, pop in the CD or DVD, and the appliance does all the rest, with no intervention from you? What if I also told you that you could do this with an ancient computer, one that's probably just sitting in your basement collecting dust, and it's all FREE? Sound too good to be true?
At a glance
Pros
Easy for anyone in the family to use, simply insert the DVD and it rips a perfect copy of the movie, even preserving the 7channel audio
No monitor required
Can be installed on a VERY old computer
DLNA support to any device which supports DLNA
Rips audio CDs, tags them correctly, and downloads artwork
Squeezeserver support
iTunes server support
Open source license
Great developer support via the Vortexbox forums
Cons
Some upgrades wipe out user customizations
Some free utilities used in the appliance expire and stop working, requiring manual intervention to update
No confirmation of a successful DVD rip without visiting web page, drive door opens on success or error
Third party utility needed to download DVD metadata beyond name and date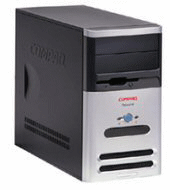 Rip, tag, get cover art, all you do is insert the CD. That's the claim of
Vortexbox
, a Fedora based open source media appliance, and I figured I would put it to the test with this DIY home network project. As Vortexbox claims any old PC will work and doesn't have to be anything special, I will be using a Compaq Presario S4110CL (circa 2002) as my test mule. The only screaming this old box does is screaming in pain when you try to use it for anything, so it will be the perfect box to test the claims of this appliance.
The specs of my test mule, for posterity sake, are as follows:
Compaq Presario S4110CL - 2002 manufacture date
Asus A7N8X-LA motherboard, proprietary for Compaq
AMD Athlon 2600+ 2.08 GHz Socket A processor
Nvidia nForce2 chipset
Nvidiea nForce2 10/100 ethernet
1gb DDR memory
Since I'm not a total glutten for punishment, I did add these items:
Rosewill RC-215 VIA PCI SATA Controller Card - $19 at the time, $11 now
Hitachi Deskstar HDS5C3020ALA632 2TB drive ($79 when I bought it, now $229, yikes!)
Intel 82541PI Gigabit Ethernet Controller - from my parts drawer, but <$30 for gigabit
Fired up the install CD and in less than 15 minutes the new Vortexbox was installed. From here you can simply disconnect the monitor and set it somewhere out of the way. All management from this point will be done via the web console and, in extreme cases, SSH. The Vortexbox simply names itself, Vortexbox, and can be accessed by going to
http://vortexbox
in your browser. Simple enough.
In the web console you'll want to do some small set up tasks, such as deciding if you want your music mirrored to MP3 and ALAC or if you just want it in FLAC format. Consequently for DVDs you'll need to decide if you want them in just MKV or also MP4 and M2TS. By the way, that DVD rip, on a non-HD DVD it takes about 11-16 minutes and does a bit-by-bit copy of the movie, even preserving the 7 channel audio.
The Vortexbox does a good job of finding the CD and DVD titles, and does a good job of finding CD art. It, however, does not find DVD metadata. For this you'll want a 3rd party program such as
YAMMM (Yet Another Media Meta Manager)
. Be sure to set your cover art settings to the correct pixel size on the DLNA page of the Vortexbox web console or some DLNA appliances, such as our Samsung TV, will have trouble presenting the cover art.
So how does it work? Flawlessly, absolutely flawlessly... DLNA broadcast to our Samsung TV works beautifully without a single pause or buffer and our stereo receiver picks up the 7 channel audio and automatically switches to Dolby mode. The iTunes server and Squeezeserver functions also work great. Using the not-so accurate-for-absolute-fastest-speed-numbers
LAN Speed Test
application, I was able to write at 371Mbps to the Vortexbox samba share, and read at 655Mbps for a 100mb file. A gigabit file came in slightly slower, way more than enough for even the biggest streaming, especially since our Samsung TV only has a 100Mbps connection anyway. This old box idles at a respectable 50w as told by the
Kill-a-Watt
, and doesn't change when serving a movie. It does jump up to about 70w when ripping a movie, but that only takes <15min each.
Do I have any cons for the Vortexbox? It's free and it's awesome, that should be enough to give it a try yourself, there are some small things though. The FAQs on the site have great "modification" articles, but any upgrade seems to wipe out most of your modifications. The developer(s) are very active on the
Vortexbox forums
and responsive to issues, but when running something like this it sure doesn't hurt to be able to do a little digging and figure some things out on your own, sometimes even going to the code level and giving a little back. Some third party tools, such as MakeMKV, are eval versions and you need to upgrade the Vortexbox periodically to update MakeMKV and keep DVDs ripping. But overall those are small potatoes with all the great things the Vortexbox can do for you. My wife has been ripping our entire DVD collection on the premise of simply getting rid of them and cleaning up the clutter. Movie nights now simply consist of powering on the TV, scrolling through our list of movie titles by DLNA, and then watching whatever we choose.
The Vortexbox is easily something that could cost hundreds of dollars that you only see during the Parade of Homes, but due to the generousity of the developers, it's free to you for only the cost of an old PC and a few minutes of your time. Of course, for those without an old PC to use or lacking the time and/or inclination to make one on your own, you can always buy a pre-built appliance at the
Vortexbox store
.